Compare RV Hire in Canada & Book Now
Stretching from Atlantic Ocean in the east to the Pacific Ocean in the west, Canada is an enormously huge country encompassing ten provinces (states) and three territories. Geographically, it is the second largest nation on earth; even bigger than U.S. Every province has its own array of tourist attractions that will take you in an entirely different culture and life-style. Canada is a country of several countries. Its popular tourist sites including Niagara Falls, Cariboo Trailer Park and Wells Gray Provincial Park attract millions of visitors all around year. The country also boasts of plenty of unspoiled attractions that are worth a visit.
OnRoadCampervan RV rental Canada has various sites dotted all across the country including major cities and major airports. Our excellent campervan hire service allows you to plan your itineraries on your own. From economical to luxurious, we have got the right deal that suits your budget and tastes.
Recommended Itineraries For MotorHome Rental in Canada
Outstanding Ontario
The provincial capital of Ontario, Toronto, and Niagara Falls are highlights of this itinerary. Begin your journey from the largest city of Canada, Toronto. Explore diverse range of breathtaking architecture, shopping malls, vibrant nightlife, restaurants and glorious art galleries. Drive to the city's highest free-standing structure, the C.N. Tower. And don't miss to experience a boat trip at the Lake Ontario. Ride your campervan towards southern Ontario, but don't miss to visit Niagara Falls, which is one of the most visited tourist attractions in Canada.
Grandeurs of Québec
UK visitors can take a direct flight to Montreal, pick up your campervan hire and start exploring the city with comfort of home away from home. Montreal is a cosmopolitan city encompassing fashion shops, craft shops, art galleries and first-rate restaurants. Discover the magnificent scenery of the Laurentian Mountains and the Saguenay Fjord.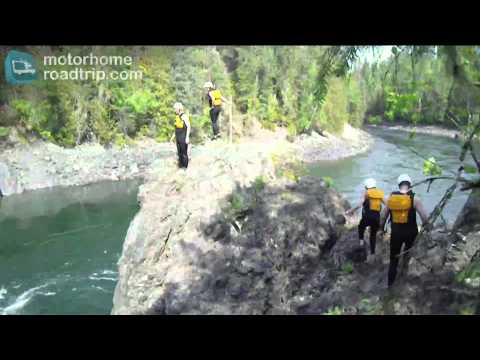 Top Motorhome Rental Locations in Canada
Upcoming Famous Festivals & Events in Canada
| | | |
| --- | --- | --- |
| Festival & Event | Location | Date |
| Playhouse International Wine Festival | Vancouver | 25 Feb to 3rd March, 2013 |
| Calgary Stampede | Calgary | 5th to 14th July, 2013 |
| Dawson City Music Festival | Dawson City | 20th to 22nd July, 2012 |
| Caribana | Toronto | 1st to 4th August, 2013 |
| Festival Acadien | New Brunswick | 1st to 15th August, 2013 |
| Folklorama | Winnipeg | 4th to 17th August, 2013 |
| Toronto International Film Festival | Toronto | 5th to 15th September, 2013 |
| Celtic Colours | Cape Breton Island | 11 to 19 October, 2013 |
| Canadian Western Agribition | Saskatchewan | 11th to 16th November, 2013 |
Safe Driving Tips Before Hiring Campervan in Canada
Traffic drives on the right and overtake from the left hand side of the road.
Don't take right turn at red signal while in Quebec.
At some places of the country, you will find road signs in French language. So, if you know a bit of French language, tour to such places may be easier.
The speed limits are 50 Km/hour on urban roads, 100 Km/hour on freeways and 80Km/hour on suburb roads.
Don't use your mobile phone and make sure you wear seat belt all the time while on the road.
RV rental Canada empowers you to set out a road trip on your own making the entire road network at your disposal!